Fikebar
Quai du Mont-Blanc 11, 1211 Genève, Suisse
Voir le plan
http://www.ritzcarlton.com/en/hotels/europe/geneva/dining/fiskebar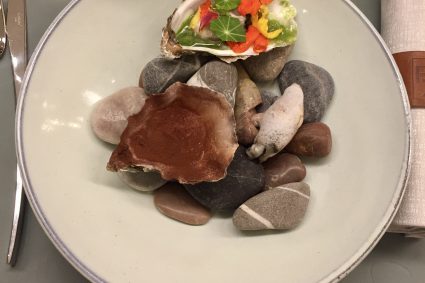 Inspired by Executive Chef Alessio Corda's international mindset and respect for nature, Fiskebar introduces a new Nordic-fusion concept, first of its kind in Geneva.
The culinary experience, full of bold flavors, emphasizes on highest quality sea products, organic and seasonal ingredients. The Fiskebar presents a palatable selection of dishes in his crafted menu. Culinary highlights include the octopus tempura, black garlic and hibiscus from the counter market, the lobster, brioche and potato and the pickled mackerel, chanterelle and wild berries.
Spread across four distinct yet interconnecting areas at play – the chic and intimate fine-dining restaurant, the more casual raw kitchen counter with its high-table communal seating, reminiscent of a traditional Scandinavian fish market, the luxurious bar and its cosy opulent lounge. The harmonious connection with nature, the neutral deeper and darker tones and detailing, abundance of raw materials and weathered textures against minimalistic furniture, whilst retaining elements of timeless rich luxury, has embodied the design ethos of this 220m² space.

Découvrez les expériences CHOISISTONRESTO sur cet établissement :
---